Transferring to UMBC in the Summer or Fall Semester
Getting Started
What's Next?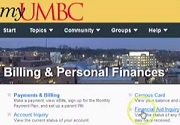 Viewing Your Financial Aid on myUMBC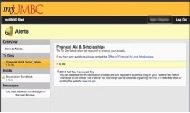 Viewing Your Financial Aid To Dos on myUMBC
One More Step…
After Orientation…
Remember…
In-Person Assistance…
The Office of Financial Aid and Scholarships has an appointment-based visitation schedule. You may call or stop in the office to receive information about the application process, the status of your awards or to drop off documents.
Inquiries surrounding eligibility or appeals will be directed to your assigned counselor who will schedule an appointment to discuss your questions. This personalized approach allows you to have one point of contact for your financial aid and scholarship inquiries. Please visit our Contact Us page to find your financial aid counselor's contact information.