Current Undergraduate & Graduate Students
Welcome Back!
Below is a step-by-step tool that will continue to guide you through the financial aid process beginning with the submission of your FAFSA and concluding with the payment of your bill. We hope that you find the links helpful. Be sure to visit the rest of our website, as there is additional information that may meet your specific needs.
Getting Started
Submit the Free Application for Federal Student Aid (FAFSA) online no earlier than January 1 but by February 14 for priority consideration of financial aid. Include our school code, 002105, and keep your confirmation page for your records.
What's Next?
Beginning in late March electronic notifications will be sent advising students to view their Financial Aid Packages on myUMBC.
All required documents must be submitted and reviewed

before

your award notice will be generated. Failure to respond within the requested timeframe may reduce your financial aid funding.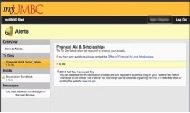 Viewing Your Financial Aid To Dos on myUMBC
The awards listed on your initial Award Notification are based on full-time enrollment. If you plan to enroll for less than 12 credits (undergrad students), you must contact the Office of Financial Aid and Scholarships to discuss how part-time enrollment may affect your awards.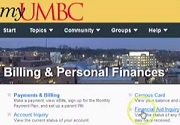 Viewing Your Financial Aid on myUMBC
Since privacy laws restrict information that can be disclosed regarding student records, you must submit the Authorization to Disclose Information form if your parent(s) or any other person will be contacting our office concerning your financial aid.
Estimate your out-of-pocket expenses by comparing your financial aid awards to estimated tuition, fees, room and board charges.
Need to Borrow a Loan?
If a combination of your grants, scholarships and personal contributions are not sufficient to cover your costs you may want to apply for a loan.
If you have never applied for a Direct Stafford Loan:
Apply for a loan. Submit your loan application by the priority date to ensure that your loan funds will arrive at UMBC in a timely manner. Apply for loans by our priority deadline date – please visit Loans for additional information and to see final application deadline dates.
Please note: in order to be eligible for Federal Direct Stafford Loans (subsidized and unsubsidized) and the Federal Direct Parent PLUS Loan you must be enrolled in 6 or more credits.
If you need to borrow more than your Stafford Loan eligibility allows, view information about additional Loan possibilities.
Final Steps…
Remember…
All students must meet financial aid Satisfactory Academic Progress (SAP) standards to maintain eligibility for financial aid awards. Students' academic progress will be evaluated annually.
Continue to check your myUMBC for additional email requests, award revisions, and requested documents.
In-Person Assistance…
The Office of Financial Aid and Scholarships has an appointment-based visitation schedule. You may call or stop in the office to receive information about the application process, the status of your awards or to drop off documents.
Inquiries surrounding eligibility or appeals will be directed to your assigned counselor who will schedule an appointment to discuss your questions. This personalized approach allows you to have one point of contact for your financial aid and scholarship inquiries. Please visit our Contact Us page to find your financial aid counselor's contact information.