A loan is money you borrow and must pay back with interest. Interest is a loan expense charged for the use of borrowed money to the borrower (the student). Students who decide to take out a loan for their educational expenses should be sure they understand the terms and conditions of the loan and what repayment options are available to them.
Colleges and universities in Maryland are required to provide each student applying for financial aid with an annual Student Loan Notification Letter, which includes information about their current individual student loan debt. These letters will be sent electronically, along with continuing students' financial aid award notifications. Please take time to review your letter carefully. Planning your expenses ahead of time and borrowing only what you really need can reduce future debt.
For more information on the repayment process, please visit StudentAid.ed.gov: Understanding Repayment.
Federal loans consist of the following:
*Note: Students with Federal Perkins Loans from UMBC may visit Student Business Services for more information on repayment.
Students with Alternative (Private) Loans should contact their lender(s) for more information.
Repayment Plans
The U.S. Department of Education offers several plans to assist student borrowers with their loan repayment. Students will enter repayment for Perkins and Direct loans once they graduate or if they drop below half-time enrollment for a semester (less than six credits enrolled). Once you enter repayment, most students will be given a one-time grace period to allow them to get financially prepared to pay back the loans and to select a plan.
Repayment plans vary in terms of length and minimum payment required according to the individual student's loan borrowing. To review the repayment plans available, please visit StudentAid.ed.gov: Repayment Plans. Students interested in estimating their federal student loan payments are welcome to use the Repayment Estimator. It is important that students contact their lender/loan servicer if they are having trouble making payments. Students with extenuating circumstances may have alternative repayment options available to them.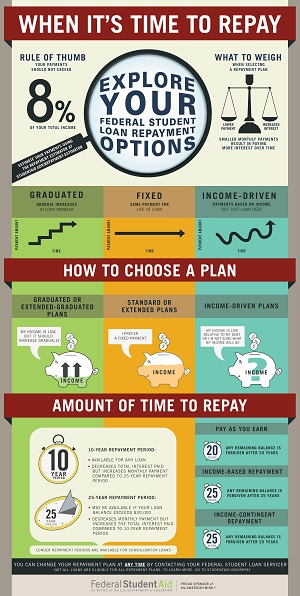 Public Service Loan Forgiveness (PSLF) https://studentaid.ed.gov/sa/repay-loan
PSLF is a federal program that forgives the remaining balance on your Direct Loans after you have made 120 qualifying monthly payments under a qualifying repayment plan while working full-time for a qualifying employer.
Qualifying employers include government, 501 (c)(3) tax-exempt organizations and certain other tax-exempt organizations that provide qualifying services. Learn more about qualifying employment from the Office of Federal Student Aid. If you're interested in learning more about the Public Service Loan Forgiveness Program visit the Maryland Center for Collegiate Financial Wellness' website.
Additional Resources
U.S. Department of Education
Federal Student Aid (FSA):
State of Maryland
Consumer Financial Protection Bureau (CFPB)
Student Connections