New & Prospective Freshmen
Welcome to UMBC!
UMBC offers both need and merit-based aid for prospective freshmen. In addition to general merit-based awards, specialized scholars programs offer financial awards with special opportunities for advanced research, unique seminars, directed internships, study abroad and more. Learn more about our merit scholarships for incoming freshmen.
UMBC is pleased to provide a student aid calculator as a guide for early financial planning for college. This calculator will provide a preliminary estimate of federal and institutional aid eligibility. The calculator is intended for use by U.S. citizens or permanent residents who will be incoming first-year, full-time students entering in the fall semester pursuing their first undergraduate degree.
Please note this calculator is for estimates only and the actual award package will vary depending upon the time of year, regulatory and institutional policy changes, availability of funds as well as verifiable financial information.
Click on "Net Price Calculator" below for your estimate:

Below is a step-by-step tool that will guide you through the financial aid process beginning with your application for admission to UMBC and concluding with the payment of your bill. The links are helpful to both prospective and incoming freshmen. Be sure to visit the rest of our website for more information that may meet your specific needs.
Getting Started
What's Next?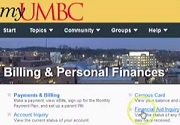 Viewing Your Financial Aid on myUMBC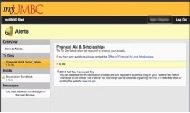 Viewing Your Financial Aid To Dos on myUMBC
One More Step…
After Orientation…
Remember…
In-Person Assistance…
The Office of Financial Aid and Scholarships has an appointment-based visitation schedule. You may call or stop in the office to receive information about the application process, the status of your awards or to drop off documents.
Inquiries surrounding eligibility or appeals will be directed to your assigned counselor who will schedule an appointment to discuss your questions. This personalized approach allows you to have one point of contact for your financial aid and scholarship inquiries. Please visit our Contact Us page to find your financial aid counselor's contact information.